For those who know me, I am someone that always follows current stats in order to have the best real estate information I can when I am working with sellers to sell their homes for top dollar. I follow a study that is done annually by the National Association of Realtors that asks buyers where they found the home that they ultimately bought. Based off of those answers is how I build out my marketing plan each year. I always make sure that I am staying on top of the data because things in the market are constantly changing.
So here is the chart: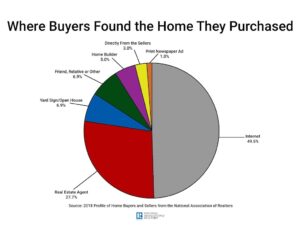 As you can see, 49.5% of buyers find the house that they ultimately purchase on the internet. That means that as a seller, your online presence has to be flawless. On average a buyer makes an impression on weather or not they want to schedule a time to view your home within just 30 seconds. You only have those few seconds to capture their attention. So what do we do to ensure a good first impression in the first 30 seconds? Pictures are the most important, when buyers are looking online the fist place they go is to pictures. If they are even interested they only make it to picture 5 maybe 10, meaning that those pictures need to capture the most important and best features of your home. Studies have been done that show that buyers like to see pictures of the home in order. You need an exterior picture to get their attention, and then you need the order of the house that gets you to the kitchen as fast as possible. People make a buying decision from the time they get from the front porch, to your kitchen. It can be tricky to set that up depending on your house but that will capture the most attention. Another part of online presence is the copyright under the description of your house. Copyrighting is how people write ads, and it is very important to make sure that the words under your listing photos capture peoples attention, make them want to come see the house, and ask for more. You don't want to give away too much, but you also want to capture their intrigue in your home. Another thing we do is online 3-D tours, to give people a full feel of the house. This one can be tricky because if you have a weird floor plan, and you don't want to show that off in the tour it might be a better idea to avoid the 3-D tour. For that reason it is good to have a realtor ready to walk through and then make that decision for you. It tends to be in the favor of most people, and gives those browsing online a chance to have a Google street view of the inside of your home.
In the second largest section, we see that 27.7% of people found their home through their current realtor. This means that your marketing needs to be strong so that other realtors are seeing it, and that it is being exposed properly. I work in an office with over 300 agents, making us the largest breakage in Utah County, and in the state. We have a lot of realtors that we can market your house to to make sure that it is getting out there to everyone. Every Tuesday on our team meetings we present all of the new listings as well.
The next piece is the yard sign or open houses. The interesting thing about that is most people think an open house will sell the house, but statistically it only sells about 7% of the time. For this reason we do open houses, but they might not always be in the best interest for you. Price point is the biggest determiner if an open house is going to be effective. The yard sign is also important, because that is how people actually find out that your house is for sale. Installing the yard sign is one of the first things we do to get that exposure. We have a QR code that we use on the signs so that people can drive up, scan it, and then ask questions about the details of your house. We have the answers on an automatic response, so that there is no lag time and that people don't lose interest over waiting for their questions to be answered. The code also asks if they would like to schedule a tour so we can make sure that your home is going to be seen by all possible buyers.
The next section is from a friend or relative. So that is where word of mouth is super important to you as a seller. I take all of my online marketing and I give it to you to share with your friends and family. There is a chance that they might know someone who knows someone, and the same goes for neighbors. The biggest thing that I have noticed is that they are always surprised to see where market value has gone, because the market has gone up quite a bit. So, they might have been interested in your house when it was worth 200K, but now that it is worth 350K they are no longer interested in your home.
The last three are 5% found it from the buyer, 3% from the seller, and only 1% found it in printed material. So if your realtor is planning on putting your listing in all the magazines, remember that it will only give you a 1% chance, so it's not usually worth it. These are typically for higher end homes that will be on the market for much longer.
The stats are changing every year, but I always do my part to keep my marketing plan up to date and ready to get your home sold for top dollar.
If you are interested in selling your home, please reach out to me and I would love to help you.