So you want to build a house, and you've found a lot that is perfect, and you want to put it under contract. What do you do now to make sure that it is the perfect lot for you?
The first thing I would suggest is to make sure that utilities are stubbed at the street. If they aren't it is going to be way more expensive to build on that particular lot. That is something you can ask the seller for and when you are looking at the property itself they typically have pins in the street showing where the utilities are. For example, they will have an "S" for sewer, and that indicates where the sewer line is.
The next tip is to have a survey done, because sometimes the lot lines aren't exactly perfect and you don't know the boundaries of your lot. Recently I heard a story from a Realtor that the lot line went past the concrete fence on the property, so they knew that it was a bigger lot. What they didn't realize that with their house and what they wanted to put in, that it wouldn't all fit. She recommends getting a survey done every time, even if it is a subdivision, just to be careful and avoid problems like that.
I would also recommend a soil test. If you are going to be building a house, especially if you are on the fence, you are going to want to make sure that you are adequately prepared for the extra costs of building in an area that might have compacting soil. It isn't super expensive, you can have a soils report come back and tell you that you'll need extra footings which is going to cost you around 12K, but knowing that as part of your budget when you are coming up with the numbers makes a big difference.
The next thing I would do is make sure that the size of house that you want to build is going to work within the building envelope. If you are building with a normal builder, the builder will do a lot of this due diligence for you, but you want to make sure if you are building a super wide rambler that it is going to fit on that lot, potentially before you even put it under contract. Each city has different rules and regulations about how far away the house has to be from the building lines, so it's important to know how far that is. Especially if you are buying a lot that is on a corner because corners typically have further set backs. If you are buying a house from a builder and they are doing the lot, they are going to do all of this due diligence for you. Make sure to always have good communication with these builders so that all of your wants and needs are understood.
Remember that you can't change the lot, but you can change the house. If you are buying a lot for the purpose of building a specific house, pay attention to the land to see if what you have in mind is a possibility. In that case it might be better to have the house that you are going to build picked out before you go lot shopping.
If you are looking to build semi-custom, and you need help finding a lot, builder, or both, I would love to guide you through that process.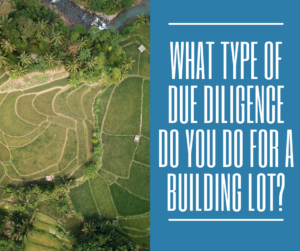 https://theUtahRealEstateAgent.com